4400 LBS ACE Dodge Dump Kit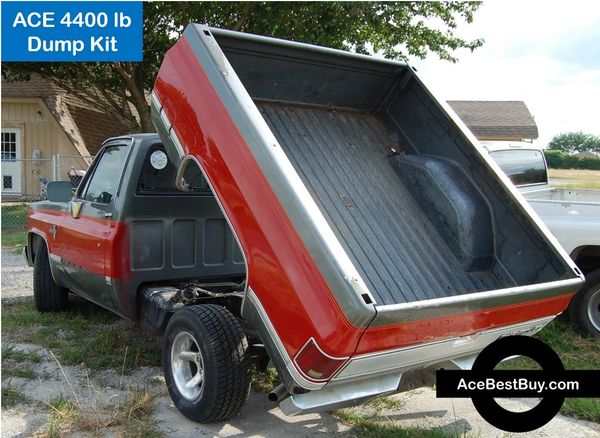 4400 LBS ACE Dodge Dump Kit
ACE 4400 pound Dodge Dump Kit  to make your pickup with a factory bed into a dump truck. Installation takes less than a day with ordinary tools. THIS MONTH - FREE SHIPPING to commercial address!   Only $29 EXTRA FOR RESIDENTIAL SHIPPING.  
INCLUDES FREE WIRELESS REMOTE PLUS a Wired REMOTE with Quick Disconnect.  
Includes everything you need except fluid (recommend 3 quarts Dexron Transmission fluid). Kit is complete with assembled scissor, hinges, HEAVY DUTY hydraulic pump & mount, hoses, nuts & bolts, upper and lower frames, custom made cylinder for extra lifting capacity, gas filler tube bracket. Industrial Duty pump has bearings on both ends of motor.
SHIPPING:  FREE COMMERCIAL SHIPPING (only $29 more for residential) to 48 states, Call for AK or HI   800-604-8842 
CANADIAN BUYERS: We do NOT ship to Canada. Shipments must be to the US only. We will ship to a location in the USA where you can pick it up or to a freight forwarding company located in the USA. Our 800 number does not work in Canada. My cell number is 903-641-6611. Thank you.
Fits Dodge full size pickups 1973 to 2002 
1973 to 1977   6' & 8' beds                  D77 
1978 to 1983   6' & 8' beds                  D78
1984 to 1993   6' & 8' beds                  D84 (bed crossmember spacing 16 3/8")
1984 to 1993   6' & 8' beds                  D84-17 (bed crossmember spacing 17")
1994 to 2002   6' bed                            D94S
1994 to 2002   8' bed standard cab    D94R
1994 to 2002   8' bed extended cab    D94X
NO kits available for 2003 and up Dodges due to frame construction.