4400 LBS ACE Chevy/GMC DUMP KIT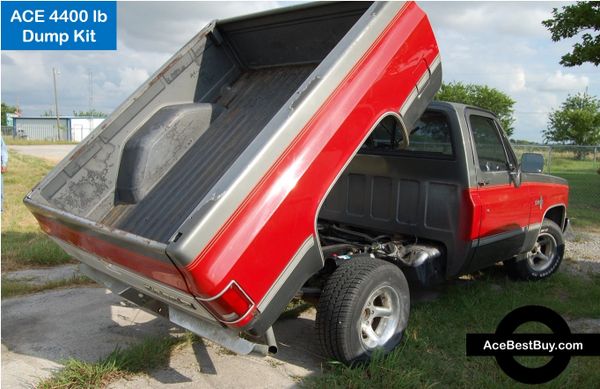 4400 LBS ACE Chevy/GMC DUMP KIT
ACE 4400 pound Chevy/GM Dump Kit to make your pickup with a factory bed into a dump truck. Installation takes less than a day with ordinary tools. THIS MONTH - FREE SHIPPING to commercial address!  Only $29 EXTRA FOR RESIDENTIAL SHIPPING. Includes everything you need except fluid (recommend 3 quarts Dexron Transmission fluid).  INCLUDES FREE WIRELESS REMOTE PLUS a Wired REMOTE with Quick Disconnect.  Kit is complete with assembled scissor, hinges, HEAVY DUTY hydraulic pump & mount (Gravity Down standard), hoses, nuts & bolts, upper and lower frames, custom made cylinder for extra lifting capacity, gas filler tube bracket. Industrial Duty pump has bearings on both ends of motor.  
SHIPPING:  FREE COMMERCIAL SHIPPING (only $29 more for residential) to 48 states, Call for AK or HI   800-604-8842 
CANADIAN BUYERS: We do NOT ship to Canada. Shipments must be to the US only. We will ship to a location in the USA where you can pick it up or to a freight forwarding company located in the USA. Our 800 number does not work in Canada. My cell number is 903-641-6611. Thank you.
CHEVY/GM KITS are for full size pickup trucks from 1973 to 1998
1973 to 1987 6' and 8' beds               STD
1988 to 1998 8' bed                            C88L
1988 to 1998 6' bed                             CS
1999 to 2011 6' bed                            C99S
1999 to 2011 8'bed                              C99L
 MUST know if gas or diesel as different size fuel filler tube is used (also need year).

ALL late model pickups require the bed be reinforced - recommendations in instructions.