4400 LBS ACE Ford Dump Kit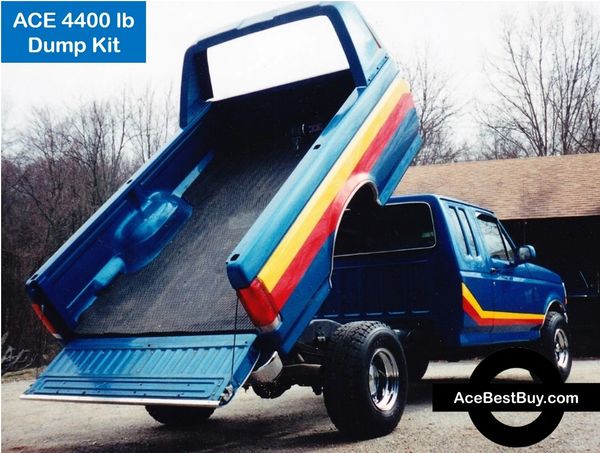 4400 LBS ACE Ford Dump Kit
ACE 4400 pound FORD Dump Kit to make your pickup with a factory bed into a dump truck. Installation takes less than a day with ordinary tools. THIS MONTH - FREE SHIPPING to commercial address!  Only $29 EXTRA FOR RESIDENTIAL SHIPPING. Includes everything you need except fluid (recommend 3 quarts Dexron Transmission fluid).     INCLUDES FREE WIRELESS REMOTE PLUS a Wired REMOTE with Quick Disconnect.  Kit is complete with assembled scissor, hinges, HEAVY DUTY hydraulic pump & mount ( GRAVITY DOWN standard), hoses, nuts & bolts, upper and lower frames, custom made cylinder for extra lifting capacity, gas filler tube bracket. Industrial Duty pump has bearings on both ends of motor.
SHIPPING:  FREE COMMERCIAL SHIPPING (only $29 more for residential) to 48 states, Call for AK or HI   800-604-8842  

CANADIAN BUYERS: We do NOT ship to Canada. Shipments must be to the US only. We will ship to a location in the USA where you can pick it up or to a freight forwarding company located in the USA. Our 800 number does not work in Canada. My cell number is 903-641-6611. Thank you.
FORD KITS
1973 to 1998 6' & 8'                              STD  No F150 kit if bed wraps under cab!
1999 to 2017 F250/F350/F450   6'        FS
1999 to 2016 F250/F350/F450   8'        FL