4400 LBS ACE Toyota/Ranger/S10/Dakota Dump Kit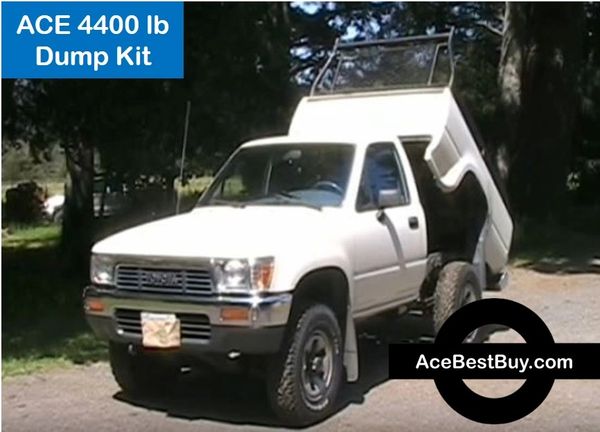 4400 LBS ACE Toyota/Ranger/S10/Dakota Dump Kit
ACE 4400 pound UNIVERSAL Dump Kit can make your pickup with a factory bed into a dump truck.    FREE 48 STATE SHIPPING !!!  Residential address only $29. If you have a Toyota, Ranger, S10, Jeep, Studebaker, Dakota, show truck or any other pickup you may modify our Universal Kit to make it into a dump truck.  The original kits were only made for full size trucks and the same kit fit a Ford, Chevy & Dodge.  This kit can be modified (usually involves shortening some angle iron).  Look at where the cab and bed meet and make sure there is daylight in between and that the bed does not wrap under the cab.  If your bed could be raised you can modify our kit.  I have sold about 1 kit per month for this application for many years.   INCLUDES FREE WIRELESS REMOTE PLUS a Wired REMOTE with Quick Disconnect.  Wired Remote has warning lights for Low Battery and Temperature PLUS and LED Flashlight.    Kit includes assembled scissor, hinges, HEAVY DUTY hydraulic pump & mount, hoses, nuts & bolts, upper and lower frames, custom made cylinder for extra lifting capacity.   Power down  available FREE THIS MONTH!!!
SHIPPING OPTIONS: 

 Will ship FREE to a business in 48 states. 

Call for AK or HI.   Call John anytime with questions 800-604-8842. 

CANADIAN BUYERS: We do NOT ship to Canada. Shipments must be to the US only. We will ship to a location in the USA where you can pick it up or to a freight forwarding company located in the USA. Our 800 number does not work in Canada. My cell number is 903-641-6611. Thank you.