D2-4 Falcon/Mocen Dual 4 Quart Pump w/Wired & Wireless Remotes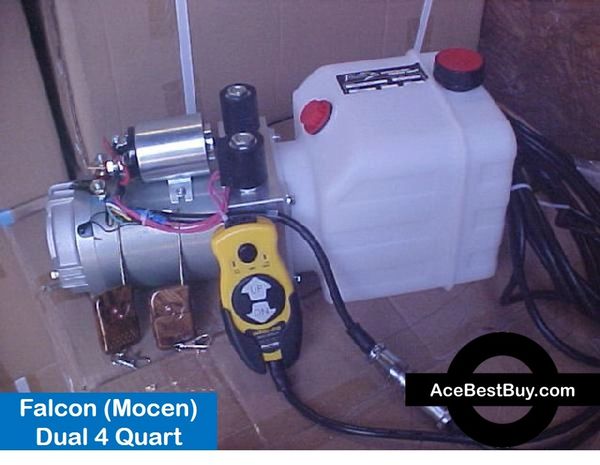 D2-4 Falcon/Mocen Dual 4 Quart Pump w/Wired & Wireless Remotes
Falcon (Mocen) 4 qt. Dual Acting F019+WR (Power Up/POWER DOWN).  Load holding on BOTH ports!!!
Remote: Wired plus 2 Wireless. Rainproof Wired Remote has built in LED flashlight; Warning lights for temperature & low voltage; 25 foot cable; Mount for wired unit; Quick unscrew Disconnect; Contains electronic receiver for Wireless. Wireless transmitters have protective slide cover; antenna; key fob.
Dimensions: 20"L x 6.8"W x 9"H. 24 lbs. 

Reservoir: 4 quart – heavy duty poly. Larger reservoir in a dual acting unit provides additional cooling for severe extended use applications. 
Motor & Pump: 12 volt 2.5 kw. 3 hp Industrial Duty with bearings. PSI adjustable set at 3200. Flow Rate to 2.1 gpm; #6 O-Ring. Uses Dexron transmission fluid.
Mounting: 4 (four) 3/8 bolt holes on base of pump; Horizontal or Vertical.
Shipping: FREE SHIPPING to 48 states – email or call for quote to AK, HI, Canada.  
Falcon (MOCEN) leads all competitors by developing & incorporating the latest technology & design.
Results: strength - reliable – fast – smooth!         Cannot be beat!!!