dK3 KTI 3/6 quart 12 volt Hydraulic Dual Acting Pump w/Wired & Wireless Remotes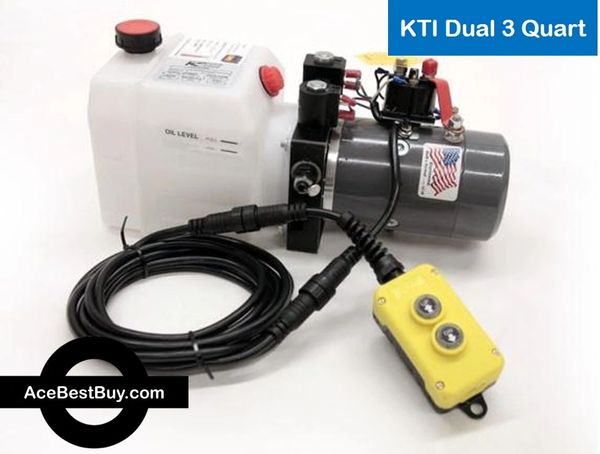 dK3 KTI 3/6 quart 12 volt Hydraulic Dual Acting Pump w/Wired & Wireless Remotes
dK3 KTI 3 quart 12 volt Hydraulic Dual Acting Pump with
wired and wireless controls
.  
FREE SHIPPING
to 48 states – email or call for quote to AK, HI, Canada.
Remotes:
Wired Remote

pendant with 1 foot cable has quick disconnect and comes with 14 foot extension cable; magnets on back of remote;

Wireless Remote

has receiver permanently mounted on pump, on/off button, protective removable cover, lanyard, range of 75 feet direct line of sight; do not have to disconnect wired remote to operate wireless remote. 
Dimensions:

 3 quart - 16.5"L x 8"W x 8"H.  (for 6 qt add 5" length)
Reservoir:

3 quart poly tank with two access caps.  Optional 6 quart available.
Motor & Pump:  
Motor is heavy duty 4000 series;
pressure setting on A port is 3200 psi, B port is 1500 psi; port size is SAE #6 o-ring on both ports;
low noise emission.
Mounting:

 Horizontal mount.