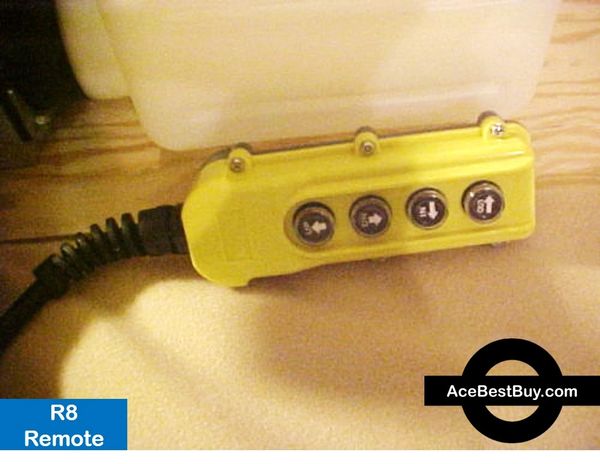 R8 MTE 4 Button Remote
R8 MTE 4 BUTTON REMOTE.  

18 foot 6 wire cord.  Heavy Duty weatherproof case.
 3 Heavy Duty Magnets on the back.
Black = Power In; White = solenoid Exciter terminal; Yellow, Red, Blue, Green = Valve circuits. Used on two function (4 way) systems with 2 separate cylinder systems. 
FREE SHIPPING!
4 button MTE Remote 6 wire
Black Wire   Power In  (terminal on solenoid that has positive cable to battery)
White Wire  Exciter terminal on solenoid  (Exciter terminal is small terminal at top of solenoid)
     function one:
Green Wire  coil for cylinder out  (outer coil near motor)
Blue Wire    coil for cylinder in   (inner coil near motor)
     function two:
Red Wire     coil for cylinder out   (outer coil near reservoir)
Yellow Wire  coil for cylinder in    (inner coil near motor)