D8 MTE 6 Way Pump - 1.4 Gallon FREE SHIPPING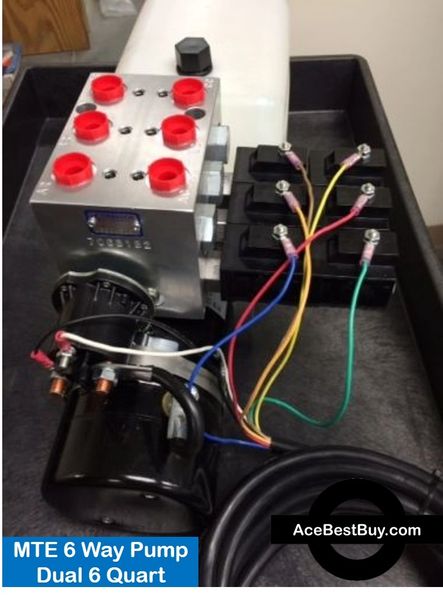 D8 MTE 6 Way Pump - 1.4 Gallon FREE SHIPPING
MTE 12V DC 6 Way Pump 1.4 gal. poly tank - Dual Acting (Power Up/POWER DOWN) on 3 separate circuits.  Load holding on all ports!!!

Remote: Optional 6 Button 15 foot wired remote control available for an extra $179.  Can also get a wireless remote - see options.
Dimensions:  23"L x 9.5"W x 10"H.  40 lbs.

Motor & Pump: 12 volt. Industrial Duty bearing motor with heavy duty ball bearing motor!  PSI adjustable from 1750 to 3200 lbs, set at 3200 psi. Flow Rate 1.7 gpm; #6 O-Ring.  
Shipping: FREE shipping to 48 states – email or call for quote to AK, HI, Canada.

Great for wreckers and applications requiring power in 6 directions.

BEST BUY IN A 6 WAY PUMP!!!

MTE makes superior quality industrial pumps that have a very long, trouble free life.
12 VDC POWER UNIT, HYDRAULIC CIRCUIT: (3) DOUBLE ACTING CYLINDERS, LOAD HOLDING ON ALL PORTS, 1.38 GALLON CAPACITY, HORIZONTAL PLASTIC TANK, PORTS ARE #6 SAE O-RING, RELIEF IS SET AT 3200 PSI (ADJUSTABLE FROM 1750 PSI TO 3200 PSI), INTEGRAL PRESSURE PORT CHECK VALVE, HEAVY-DUTY BALL-BEARING MOTOR, HEAVY-DUTY MOTOR START SWITCH.
   Use Dexron transmission fluid or hydraulic fluid.  
Facing from motor end:  ports and solenoids closest to motor FROM LEFT TO RIGHT:  Cylinder A Rod End, Cylinder A Cap End, left coil Blue Wire, right coil Green Wire; Middle Left port: Cylinder B Rod End, Cylinder B Cap End, left middle coil Gold wire, right middle coil Red Wire;  closest to reservoir left port Cylinder C Rod End, Cylinder C Cap End, left coil Brown Wire, right Coil Yellow Wire.