FREE SHIPPING MTE 4 Way Pump FREE WIRED REMOTE 1.4 gallon poly reservoir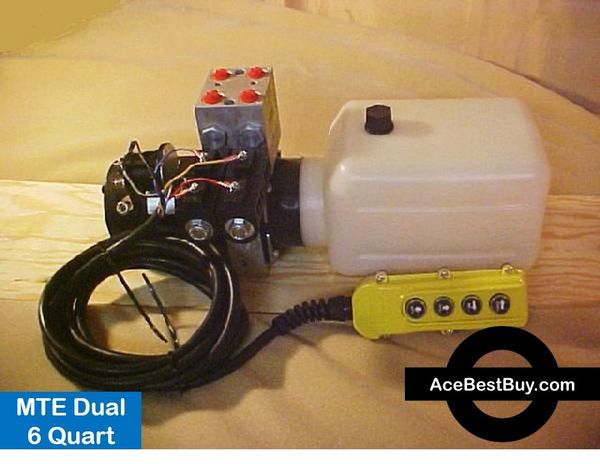 FREE SHIPPING MTE 4 Way Pump FREE WIRED REMOTE 1.4 gallon poly reservoir
MTE 4 Way Pump 1.38. gallon poly tank - Dual Acting (Power Up/POWER DOWN) on 2 separate circuits.  Load holding on ALL ports!!!  
Remote: SPECIAL PROMOTION NOW: 18 foot remote control with 3 magnets on back INCLUDED FREE with pump. 
Add a wireless remote as an option!

Dimensions:  21"L x 9.5"W x 10"H.  36 lbs. 
Reservoir:  – 1.38 Gallon poly tank. 

Motor & Pump: 12 volt. Industrial Duty ball-bearing motor!  PSI adjustable to 3200 lbs, set at 3200 psi. Flow Rate 1.7 gpm; #6 O-Ring.  
Mounting: Horizontal mount.
Shipping: FREE SHIPPING to 48 states – email or call for quote to AK, HI, Canada.
Great for wreckers and applications requiring power in 4 directions.

BEST BUY IN A 4 WAY PUMP!!!

MTE makes superior quality industrial pumps that have a very long, trouble free life.
WIRE COLOR CODE FOR WIRELESS REMOTE: Yellow wire - activated by button S1; White wire - activated by button S2; Green wire -activated by button S3; Blue wire - activated by button S4;  Brown wire - activated by button S5;  Orange wire - activated by button S6;  Purple wire - activated by button S7; the marked Gray wire - activated by button S8.
9. The Gray wire is acivated by all buttons (wire to motor switch).  Use the gray wire where the DC motor runs on both functions (power up, power down).
10. The RED wire is the DC power supply (6-28 volt).
11. The Black wire is the ground.
12. Recommend a 10 amp fuse on the red DC supply wire.
SET UP TRANSMITTER TO RECEIVER:  1. Power up the Receiver 
2. On the back side of the transmitter depress the "ADD" button using a paperclip and hold for 5 seconds.  If working properly, a blue light in the window will blink.
3. Flip the transmitter over and push each button indiviually to send the address to the receiver. 
4. Go to the receiver box and push the black button.  The LED will begin to flash.  
5. Again, push each button on the transmitter to save the address. 
6. Push the receiver black button end the programming.  The red LED will stop flashing.   
7.  The uni is ready to use.
WIRE HOOK UP FOR BOTH WIRED PENDANT REMOTE AND WIRELESS REMOTE
TERMINAL                                WIRED REMOTE                    WIRELESS REMOTE
Large terminal on motor             Black                                       Red
terminal connecting copper
Small exciter terminal on top      White                                       Gray
Inner front terminal on                Blue                                         Yellow
Outer front terminal on               Green                                       White
Inner rear terminal on                 Gold                                         Green
Outer rear terminal on                 Red                                         Blue
Don't forget to attach the Wireless black wire to a good ground.  The Wired remote has no ground.