FREE SHIPPING USA Dual PwrUp&Down 2 Poly Tank sizes, u choose load holding & remote option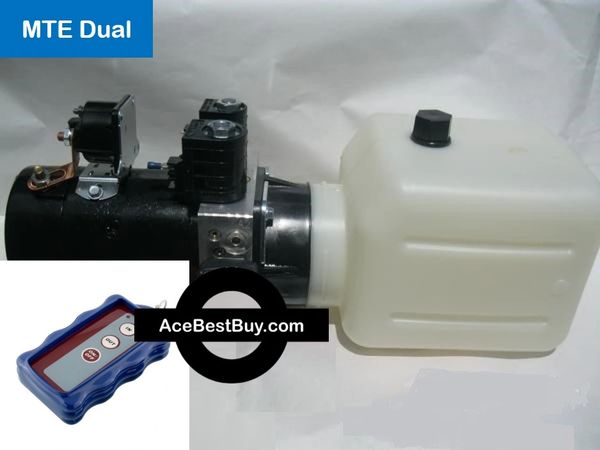 FREE SHIPPING USA Dual PwrUp&Down 2 Poly Tank sizes, u choose load holding & remote option
MTE 2 POLY TANK SIZE OPTIONS.  Dual Acting Pump (Power Up/POWER DOWN).  
CHOOSE:  Load holding on ONE OR BOTH  ports!!!  Most dual action (power up/power down) pumps have load holding on only one port. With Load Holding on Both Ports the bed or cylinder NEVER drifts down. 
CHOOSE:  No remote; 20 foot wired remote with magnets; Wireless Remote; or Both wired & wireless  (Wired & Wireless Remotes have custom wire looms to match your option choices)
Reservoir:                         total Pump Dimensions
#221: 1.8 Gallon poly                      24.5"L x 6.7"W x 7.7"H
#227. four (4) Gallon poly              39.5"L x 6.7"W x 7.7"H"                                          
Shipping: FREE SHIPPING to 48 states – email or call for quote to AK, HI, Canada.
Motor & Pump:  12 Volt DC POWER UNIT, HYDRAULIC CIRCUIT: for DOUBLE-ACTING CYLINDER, SET AT 3200 PSI (ADJUSTABLE FROM 1750 PSI TO 3200 PSI), PORTS ARE #6 SAE O-RING,  HEAVY-DUTY BALL-BEARING MOTOR (bearings on BOTH ends), two 3/8" bolt holes for mounting.  Port A is up, Port B is Down.   

MTE makes superior quality industrial pumps that have a very long, trouble free life.  High-precision inspection and post-production testing assures trouble-free operation and maximum durability.